About KVCS, Inc.
Kesselring Vineyard Consulting & Services, Inc. (KVCS) provides world-class advising services for every aspect of vineyard development and management. KVCS partners with growers throughout the United States and Mexico who share a vision for superior quality fruit. Our mission is to care for both land and vines with sustainable, research-backed techniques in order to produce fruit worthy of international acclaim. KVCS does not cut corners. We do things right, pay attention to detail, and coordinate all viticultural processes efficiently with impeccable timing.
Meet Our Family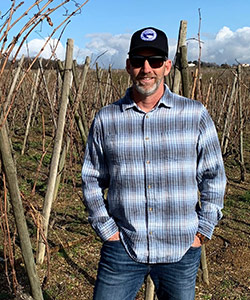 Bill Kesselring
Owner
Bill established KVCS in 2004 and has a wide variety of experience managing vineyards throughout California and Mexico. His intensity, focus, and love of viticulture drive him to ensure the absolute best expression of terroir. Bill created KVCS with the aim of helping growers with ranches of all sizes to reap the benefits of a healthy, well-maintained, finely-tuned vineyard.
He is a true vine whisperer who understands the balance of soil microbiology and climate on producing the highest caliber vines and wines. Bill stays up-to-date on the latest techniques in organic, regenerative, and sustainable farming. His hands-on approach to vineyard design and long-term planning to maintain healthy soil and vines helps his clients consistently produce high-end wines.
Bill began his business by cultivating and harvesting grapes for sale before bringing his trade full circle. In addition to KVCS, Bill is an owner of Peloton Cellars in Avila Beach, CA, allowing him to extend his passion for viticulture to the art of winemaking.
Bill holds a B.S. in Plant Science from California Polytechnic State University, San Luis Obispo and is a California Certified Pest Control Advisor.

Christopher (Chip) Appel, PhD
Earth and Soil Science Professor, California Polytechnic State University
Dr. Appel, or Chip, as we like to call him, evaluates soil characteristics for viticultural suitability. His interests in the field of soil science include soil chemistry, tropical soil chemistry and management, trace element biogeochemistry, vineyard soil management and fertility, environmental soil management, and soil nutrition.
All KVCS projects start with an in-depth soil analysis, performed by Chip, to help determine the best design for the vineyard. This is a critical first step for understanding baseline soil suitability and the availability of water and nutrients. You will find him in multiple backhoe pits on a property where he performs a comprehensive assessment to determine which blocks will likely produce uniform vine growth and fruit ripeness. He is an integral part of ensuring the success of each client's vineyard from the initial layout to the continued health of the soil to promote vine vigor and growth.
Chip earned a B.S. in Biochemistry and an M.S. in Soil Science from California Polytechnic State University, San Luis Obispo. He holds a Ph.D. in Soil Chemistry from the University of Florida. He is a member of the Soil Science Society of America and the American Society of Agronomy and is a Certified Professional Soil Scientist (CPSS).

Israel Rodriguez
Supervisor
Israel has helped build KVCS from day one. He brings a strong background in farming to his role as vineyard supervisor and shares the company's passion for nurturing the land to achieve the best results for clients. Israel demonstrates impeccable attention to detail in the vineyards; his main priority is to make clients happy. If a client has a concern, he wants to be the first to know and does everything in his power to make sure any issues are resolved quickly. His focus on quality in every aspect of his job is evident in our final product.
A natural teacher, Israel is responsible for educating the KVCS crew on proper techniques for optimal vineyard care, fruit production, and harvesting. His hands-on approach to training ensures that all viticulture processes are put into practice correctly. Israel's even-keeled nature and reliability bring out the best in his team. He is a true asset to the KVCS family.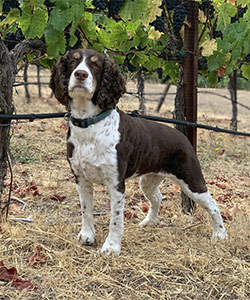 Ella Kesselring
Vertebrate pest control supervisor
Ella has 9 years of experience working in the vineyards for the KVCS family as a highly motivated vertebrate pest controller and loyal harvest partner. Always eager to start her day, she loves to ride in the company truck and be among the vines as Bill's faithful sidekick. Ella is tuned into everything happening around her and doesn't miss a beat when it is time to chase down pesky rabbits and squirrels. Ella embraces new adventures and shares the family passion for farming, especially when it means she can get her paws muddy and eliminate pests that can cause grapevine injury.